Interview with Richard Adu about his experience while studying at VMU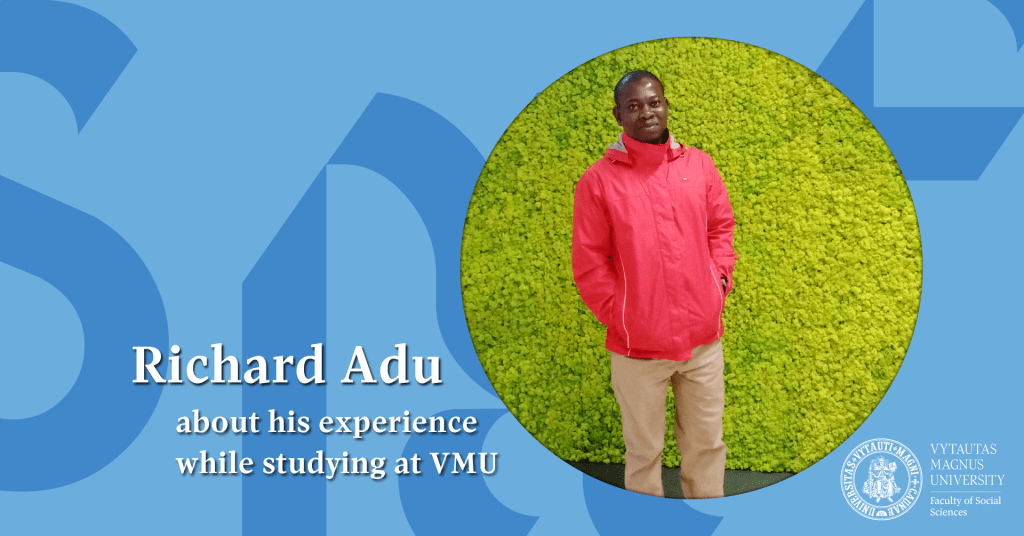 Hello, Richard! I am really glad you agreed to be interviewed about your research and experience of Erasmus+ exchange at VMU. Could you please introduce yourself? Where are you coming from? What is your research topic? What is the focus of your dissertation?
Richard Adu is my name, I am a doctoral candidate from the Department of Psychology, University of Ibadan (UI), Nigeria, and an Erasmus+ exchange student at the Department of Psychology, Faculty of Social Sciences, VMU, for the spring semester 2022.

My Ph.D. thesis is on organisational justice, transformational leadership and moderating role of job insecurity on job performance with the focus on civil servants in Oyo State, Nigeria. Literature indicates that civil service in Nigeria suffers setbacks essentially because of the poor performance of the civil servants. Hence, the need to improve the performance of civil servants in Nigeria has been identified as one of the major challenges the country is facing today. The broad objective of the thesis is to explore the role of job insecurity in the link between the organisational justice, its components (distributive, procedural and interactional) and civil servants' job performance.
As a PhD candidate, you have chosen to spend several months through Erasmus+ programme at VMU, the Faculty of Social Sciences. Why did you choose this university? And how did you learn about it?
I learned about VMU through the Office of International Programmes of my home university and the call for nomination for the Erasmus+ Programme at VMU. There has been a long-time collaboration between UI and VMU. The UI is one of the foremost universities in Africa, and Nigeria in particular, that does not go into collaboration with half-baked universities. Besides, my research revealed VMU as a well-balanced university that is recognised for its high standard of teaching and research alongside its first-class facilities.
How would you generally describe your experience at VMU? Also, how do you feel in Kaunas and Lithuania?
My personal experience since my arrival at VMU has been wholesome. In short, I consider myself as one of the most favoured candidates for the Erasmus+ exchange study at VMU for the spring semester 2022. You may ask why? I enjoined the full cooperation and assistance of my thesis supervisor here at the VMU. For instance, the assigned supervisor has read my thesis and provided valuable feedback that greatly impacted my thesis. The professor also linked me up with a training that I profited from in no small way.

Oh! My God, I repeat it to anyone who cares to hear, I am the most cared for Erasmus + programme student for spring semester, 2022. The Department of Psychology and the Faculty of Social Sciences have been wonderful since I arrived to VMU as a visiting PhD student. I was provided with working space and a laptop to work with at the department. The Chair also gave me the privilege to present my thesis at the departmental staff meeting, which, again, further improved the quality of my thesis. Now you will agree with me that I am the most cared for Erasmus+ Programme student at the VMU for the spring semester 2022.

In general, my experience in Kaunas and Lithuania lead to the conclusion that Lithuanians are good people! And great people! Within the first two weeks of arrival in Kaunas, I had trouble finding my way in the city, but I have always found people, young and old, to help me out. In some occasions, even those who do not speak English, still found a way to assist.
What do you like the most during your stay at VMU?
The most exciting aspect of my stay at VMU is my one-on-one interactions with experts and other doctoral students in my field.
Would you recommend VMU for other students and researchers who want to study abroad? Why?
I whole-heartedly recommend VMU to other students and researchers who want to study abroad for the opportunity to experience what I have experienced.
What are your career plans for the future?
I intend to be a university teacher by picking up a long-term position in academia and becoming an integral part of an international team, contributing to its success.
Thank you for the conversation.
Interview conducted by Laura Lapinskė, International relations coordinator of the Faculty of Social Sciences at VMU