Erasmus+ student Yeray Halifi Morales about his ...
Erasmus+ student Yeray Halifi Morales about his experience while studying at VMU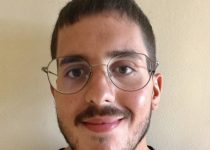 Yeray Halifi Morales from Spain is studying as an Erasmus+ exchange student at the Faculty of Social Sciences at VMU. He kindly agreed to share some insights and tell about his experience at our university.
You have spent a semester as an Erasmus+ exchange student at the Faculty of Social Sciences at VMU. Why did you choose our university?
I chose VMU because it was the university that was offered to me in Lithuania at my home university in Spain for the Erasmus programme. When I looked into it, I found it similar to my university in Spain and with interesting courses and that's why I chose it. Besides, I wanted to go on Erasmus to a country where it was not common to travel from Spain.
What programme are you studying? Why did you choose to study it?
I am studying a bachelor's degree in Social Work in Spain, so I am here taking subjects for the master's degree in Social Work and the bachelor's degree in Social Sciences, related to Sociology, etc.
I chose to study Social Work because I have always had a critical thinking about social problems and phenomena and I would like to contribute my work and vision to change some of the structural problems that affect the general population.
How would you generally describe your experience at VMU?
I would describe it as good, I have learned a lot and it has been interesting to have the opportunity to study different subjects from other contexts and in a country different from mine. Perhaps what I like the least is that you always have to do a lot of papers but thanks to them I have learned a lot and they have helped me to acquire the general and specific knowledge of each subject.
What did you like the most during your studies at VMU?
The way they work is much more flexible than my home university and the teachers try to motivate you with good marks if you do your work well. I also like the holiday time in Lithuania, which has allowed me to enjoy Christmas, something that doesn't happen in Spain because the first semester exams are in February. I also enjoyed having the opportunity to meet different people in class and make friends with them.
Which useful competencies do you think you acquired during your Erasmus+ exchange period?
I think I have gained independence, I have opened my mind more, I am more tolerant, critical and positive about my surroundings. Living in another country, with a totally different culture and climate has helped me to see things differently and to understand and appreciate things that I didn't before. Also, meeting people from so many different places has been a pleasure and something that I will always take with me. Having the opportunity to do Erasmus abroad is great.
Would you recommend VMU for other students who want to study abroad? Why?
Yes, I would recommend VMU to more people in my faculty because I think that living in Lithuania is an experience and I liked VMU as a university because it allowed me to learn in a different way and I liked the way it works, its flexibility as I said before.
What are your career plans for the future?
I would like to work full time as a social worker and that's why I'm studying it, I don't know if in Spain or abroad because it's difficult if you don't speak the mother tongue of the specific place but I would really like to focus on social policies or the international scene, European Union… it would be great to get it, although I'm a bit scared because it's difficult to get a job in Spain.
Is there anything else you would like to add?
I wanted to thank Laura Lapinske for her work and for giving me the opportunity to express myself in this interview. It has been great to have her as a teacher in the first semester and to have been able to develop my critical thinking in Social Work. I hope this semester will be as good as the first one!
Interview conducted by Laura Lapinskė, International relations coordinator of the Faculty of Social Sciences at VMU