Public lecture "Deconstruction of Ukrainian identity through the prism of the war between East and West"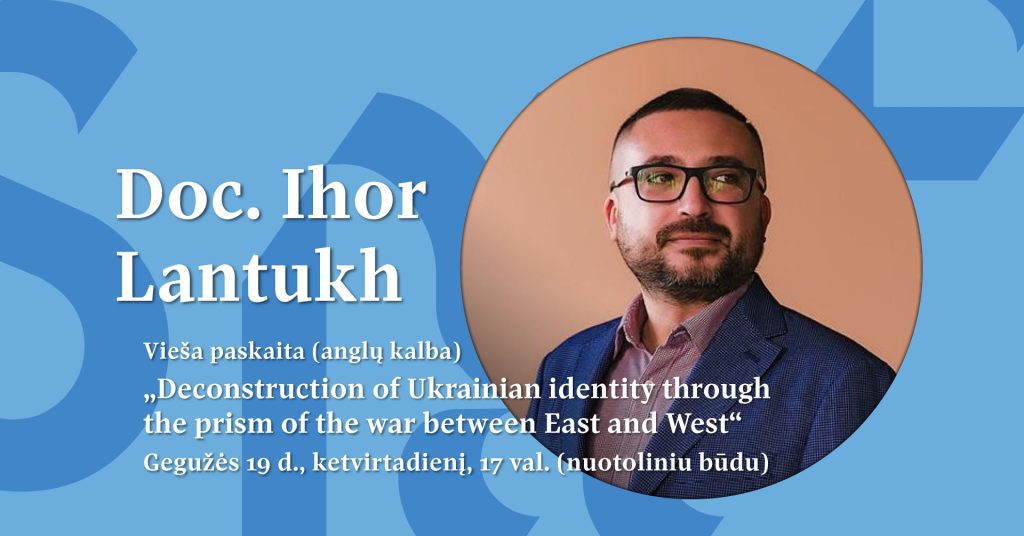 Vytautas Magnus University Department of Sociology would like to invite you to a public lecture given by doc. dr. Ihor Lantukh from V. N. Karazin Kharkiv National University (Ukraine). The title of the lecture: "Deconstruction of Ukrainian identity through the prism of the war between East and West".
The lecture will be held on the 19th of May at 5 p.m. (online).
Annotation of lecture
Throughout the history of the Russian Federation «Empire, Union», Moscow has pursued a policy toward Ukraine predicated on the assumption that respective national identities are artificial—and therefore fragile. Nonetheless, Russia's war has become bogged down in no small part because this calculation about Ukrainian identity has proven dramatically wrong. The war created a new reality in the Ukraine by strengthening the sense of political unity and state identity. It mobilized the population, including Ukrainian Russian speakers, on the government's side. Russia's further invasion of Ukraine triggered mass ethnic defection that united the population and boosted their sense of civic belonging. The war with Russia increased the notion of Ukrainian citizenship as opposed to ethnic Ukrainian. The Russian-speaking minority reconsidered not only their sense of national identity but also their stance toward the Ukrainian language. Many individuals started to identify themselves with the Ukrainian language even without knowing it while perceiving it as the symbolic marker of the country.
About the lecturer
In 1997 he graduated from Kharkiv State University with a degree in History and Finance and Credit, Kramatorsk Institute of Economics and Humanities with a degree in Psychology, Kharkiv Institute of IAPM with a degree in Medical Psychology.
In 2001 he defended his thesis and received the scientific degree of candidate of economic sciences. In 2006 he was awarded the title of associate professor of economic theory. In 2020 he defended his dissertation and received a doctorate in psychology.
Author of more than 140 publications, including 35 articles in professional publications, 7 in foreign publications, 6 monographs, 8 textbooks.
Moderator: Head of the Department of Sociology doc. dr. Jurga Bučaitė-Vilkė.
To join the event, press this link: https://bit.ly/3MYPTqX