Erasmus+ In Canada: 'It Was Like an American Movie'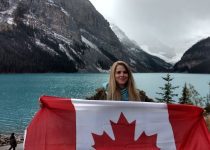 Indrė Kurkulytė, an alum of Vytautas Magnus University, currently lives and works in New York, USA. But this is not the first North American city which she has had the chance to visit. Previously, Indrė visited Regina, Saskatchewan (Canada) on Erasmus+ bilateral exchange, which helped her to not only improve her English but also successfully earn her MA degree. "When you go away from everything that surrounds you, you discover yourself, your attitudes and your opinions, and you question them all in the new environment", Indrė says, speaking of the value of her international experiences.
Why did you choose the studies of Organizational Psychology at VMU?
Psychology has always been my passion. When I completed my BA studies of Psychology, the time came to choose a more specific field. I was not completely certain about which particular area I liked the most, so I decided on Organizational Psychology, because it is one of the widest fields and has lots of application possibilities. I have always seen myself as working in a large organization and surrounded by people.
What did you find interesting while studying for master's degree?
The thing I liked the most was perhaps the fact that our group was small and the contact with the professors was close. The lecturers had better opportunities to share their experiences. We had enough time for discussions and questions that we found interesting.
Why did you decide to try the Erasmus+ bilateral exchange studies in Canada?
During my bachelor degree studies, I travelled quite a lot with the Erasmus Programme. Likewise, while I was an MA student, I was  interested in the possibilities of going abroad. I had heard from other students that it was possible to travel beyond Europe. At first, I looked for information online, then I went to the VMU International Cooperation Department, where I was welcomed very warmly and received information about the travel possibilities. I chose Canada because this country has not only beautiful nature but also English as the official language (with the exception of Quebec). I knew that good command of the English language would be an advantage while looking for a job in the future.
Which university and which city did you choose for your studies? Did you notice any cultural differences with your homeland? In general, were the studies in Canada different from the Lithuanian higher education system?
I lived in the city of Regina and studied in the university named after it. Even though it is the capital of the Saskatchewan Province, this city is comparatively small: it is even smaller than Vilnius or Kaunas. Perhaps the most interesting thing was the student campus, which surrounded the university. Everything was like in an American movie: various sports teams, communities.
Canadians are indeed very nice. What's also interesting is that the conversations in North America tend to begin with questions like "Where are you from?" or "Where did your ancestors hail from?". Such questions are much rarer in Lithuania or Europe, while in here, everyone has very diverse family histories.
The format of the studies is also a bit different: for instance, at first I had three different courses. The lectures of statistics were similar to those in Lithuania. One of the courses I chose was "Infant Development", which consisted only of discussions, where we would sit down in a circle and discuss an article we had read. The last course I chose was "Creativity, Innovations, and Entrepreneurship". This was an experiential seminar, which means that we were learning through practice. During almost every seminar, we were divided into groups and had to complete a task related to creativity or innovations. I enjoyed learning in various ways and formats. I think that this helps you to better understand which kind of learning you prefer the most and what is the best way for you to perceive and remember information.
What did you like the most during your exchange studies? What kind of experience did you gain and what did you learn from it?
The thing I liked the most was seeing another country and exploring its culture. There is no better way to learn things about another country than to live in it. When you talk with the locals, you begin to understand the subtle details, the jokes, and the challenges that they face. You start to get a sense of the country and its culture. This expands one's knowledge and horizons massively. I am happy about my studies in Canada and the fact that this is an English-speaking country, as it helped me improve my language skills.
In Canada, you established contact with a lecturer who later provided guidance to you on your final MA thesis. Can you describe what you were working on?
The subject of my thesis was the connections between slacking, organizational commitment, and moral competence. As soon as we arrived to Canada, the international student coordinators advised us to introduce ourselves to the lecturers, to tell them where we come from and that we are international students. As opposed to Europe, where it's often obvious that you are an Erasmus student, here we looked just like the Canadians themselves. My statistics lecturer was one of the most wonderful teachers I had met. He was not only a great expert of his field but also knew how to present statistics, this subject which seems so unattractive on the surface, in a fun and exciting way. As soon as we introduced ourselves, we started talking about Lithuania and my studies there. Also, as I was working on my MA thesis draft, he kindly agreed to consult me on the statistical methods that would be the best suited for the testing of my hypotheses. Even after I had returned to Lithuania, he still consulted me on statistical issues and helped me notice some interesting insights in my results.
Last autumn, after you had already graduated, you traveled to New York, an American megapolis. What are your current activities here and what motivated you to choose this city?
I came to New York to do a year-long internship. It is sponsored by the Baltic American Freedom Foundation, which covers all of my expenses: the tickets, the accommodation, the visa, the insurance.
Currently I'm doing an internship in a startup. I am a Client Success Manager: someone who is in direct contact with clients and helps them get a better sense of our product, how to use it and get the most value out of it. Every day I learn some new subtleties of working in business and talking to clients in the U.S.
I chose this city because it is so full of life. When you are in New York, you are always in the middle of the action. It is also full of various cultures and ethnicities, so it is very easy to make yourself feel at home.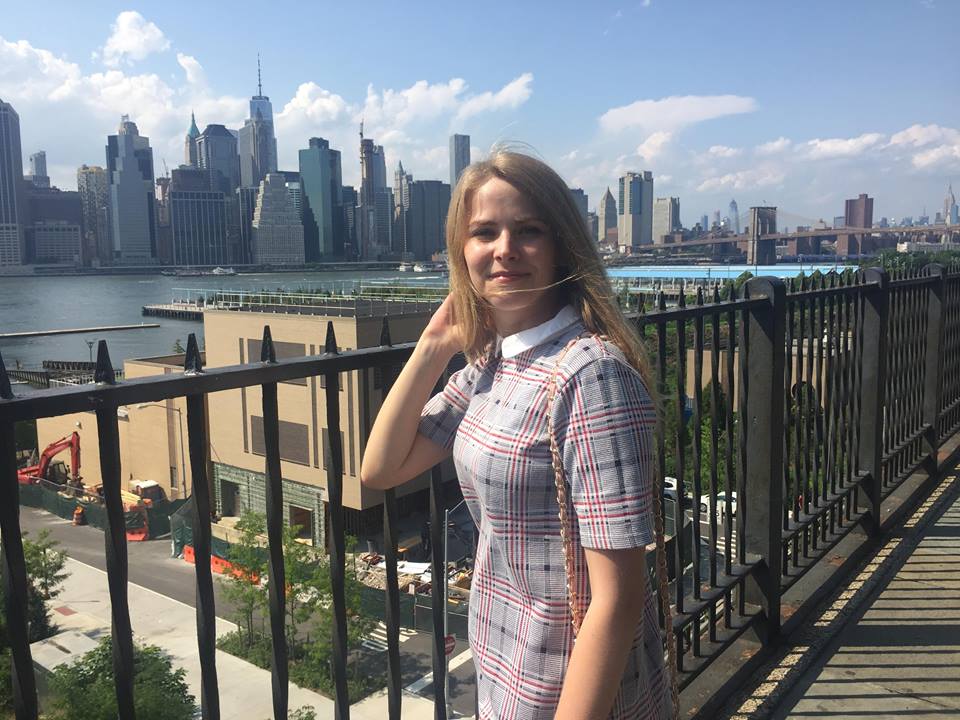 What was the most difficult and the most interesting in this city?
The most difficult thing is the fact that I will have to leave. The most interesting thing is that this year is probably the time period in which I have learned the most. I keep repeating to everyone that New York is the city where you are reborn again and again. There is such a great abundance of people, talents, and stories. It is simply impossible to be bored. Everything is alive and in motion.
How does international experience contribute to your professional activities and what significance does it have to your personal life?
First of all, at the modern workplace, the English language is no longer just an advantage, it is a necessity. International experience helps you improve your English and feel confident while making a minimal amount of effort. You are forced to speak English, which makes you learn and improve your language skills in a natural way. It is very useful to observe how business and studies are conducted abroad. It provides you with lots of useful insights and enables you to learn new things, to gain experience. I keep meeting new wonderful people who come from all corners of the world. This really makes the borders between countries or cultures disappear. We are all very similar: no matter if we come from Europe, Iran, or Mexico. We share the same human traits, desires, and dreams. To me, each trip to a foreign country is a challenge: leaving everything that is familiar to you and going somewhere else is a wonderful way to discover who you really are. When you go away from everything that surrounds you, you discover yourself, your attitudes and your opinions, and you question them all in the new environment. But sometimes it is the opposite: you can see very clear marks of your culture within yourself and you can fiercely defend the values that have been instilled in your childhood. The time I spend abroad is the time for self-discovery, the time you dedicate to yourself.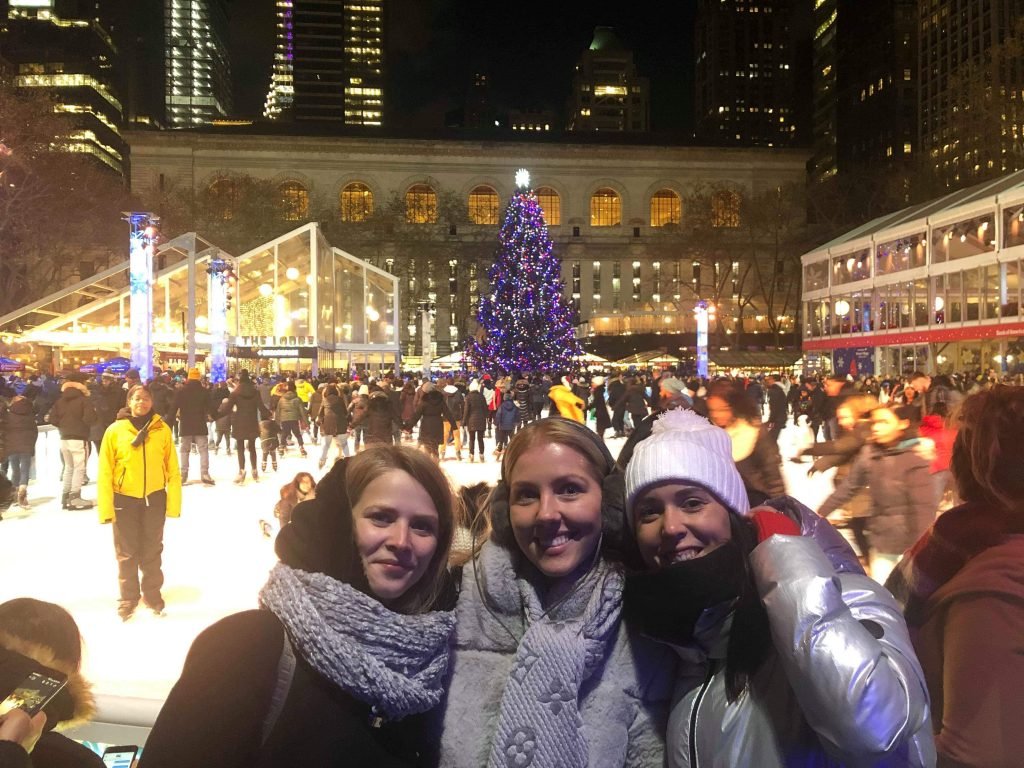 What are your future plans? Do you intend to return to Lithuania, or perhaps you still want to continue exploring foreign countries?
After completing my internship, I will return to Lithuania for two years (this is a requirement in the internship contract), so I will spend some time in the homeland. As for what will happen later – time will tell.
What would you say to those who are thinking about Erasmus+ but have some doubts?
I would share my personal experience: the best and the most meaningful time of my studies was abroad, when I traveled to study in the foreign countries. There is no better way to enhance one's studies.