COMPETITION FOR THE ERASMUS+ TRAINEESHIP GRANTS FOR THE ACADEMIC YEAR 2018 / 2019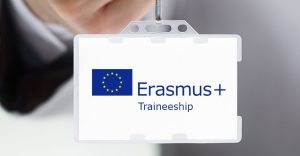 VMU International Cooperation department has announced first competition for Erasmus+ student and recent graduate traineeship grants.
All fulltime degree students who want to participate in the competition for Erasmus+ student or Erasmus+ recent graduate traineeship scholarships should submit their application documents until 13/11/2019. Student traineeship must end before 20-09-2019, recent graduate traineeship must end in a year after graduation (application must be submitted during the last year of studies). Traineeship period – from 2 to 4 months.
More information here.