Choosing Vytautas Magnus University was the best decision in my life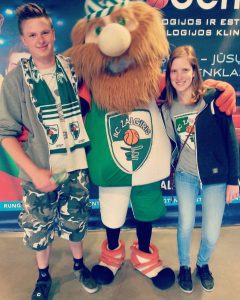 Choosing Kaunas and Vytautas Magnus University for my Erasmus destination, was the best decision in my life. I choose Kaunas with purpose; I wanted to experience life in a country that I knew only from Lithuanian basketball players from national team; because during the Eurobasket in 2013 I was their team attaché in Slovenia.
Lithuanian impressed me since my first visit. Simple people, tasty food, good basketball and nice countryside. Studying at Social Science faculty was also perfect. Teachers and staff at the faculty of social science, made me feel like I am at home. Every time I came to faculty atmosphere was so warm and teachers were always available (in personal or via e-mail) for students, if we needed something.
I would choose VMU again for my Erasmus destination without any hesitation. And I hope I will return back to Kaunas soon as possible, at least just for a visit.
Ačiu VMU!
Blanka Šiško
Slovenia