President's poll on Istanbul Convention draws criticism – it 'doesn't add clarity'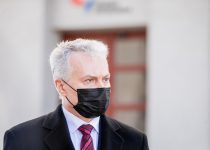 The 2011 Council of Europe's Convention on preventing and combating violence against women and domestic violence – better known as the Istanbul Convention – has yet to be ratified by the Lithuanian parliament, but has drawn opposition from socially conservative MPs and activists.
The office of President Gitanas Nausėda has commissioned a poll, asking respondents "Do you agree that Lithuania has to ratify the Istanbul Convention?"
Almost half, or 48.8 percent, said they "disagree" or "rather disagree", while 22.1 percent of those polled said they fully or rather agreed. Another 29.2 percent had no opinion on the issue, Delfi.lt reported. The pollster Vilmorus polled 1,001 people by phone between April 8 and 17.
Professor Aušra Maslauskaitė of Vytautas Magnus University says that the president's poll does not show what the public actually thinks about fighting violence against women.
"The single question, as it is formulated, does not give us the Lithuanian public's opinion on the Istanbul Convention," the sociologist said. "What it may tell us is that they have heard the document mentioned somewhere in the media."
Another scientist, Milda Ališauskienė of Vytautas Magnus University, says that the polling itself merely pours fuel on the fire and does not advance informed discussion.
"The question is improperly worded, since it is not clear what is meant by the 'Istanbul Convention'," she told LRT RADIO. "The fact that the public has been agitated over the document thus named does not tell us anything about the problems it addresses."
"This poll tells us the society is agitated, […] but not what it thinks about domestic violence, sexual violence and its prevention, […] the assistance currently available, or relations between genders," she added.
"We saw a lot of disinformation and politicking around this issue [the Istanbul Convention] throughout winter and early spring, as well as non-constructive discussion, so I am surprised to see this poll which, I agree, does not add any clarity," she added.
Read more: https://www.lrt.lt/en/news-in-english/19/1398678/president-s-poll-on-istanbul-convention-draws-criticism-it-doesn-t-add-clarity
VMU to host Conference on Family, Class and Inequalities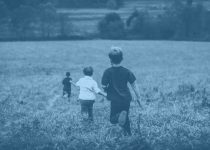 Social Research Center of Vytautas Magnus University (VMU) would like to invite you to online Conference "Family, Class and Inequalities in Central and Eastern Europe" which will take place on October 28-29th, 2021.
Three decades of transition to capitalism and liberal democracy in Central and Eastern Europe have reshaped the everyday life of the region's families. Research has documented new patterns in family demography, gender and intergenerational relationships, practices and discourses on parenthood, and trends in family policies as well as the growing complexity of family. Yet, the class-based divisions in the family life remain sparsely covered in the scientific discourse within the region.
The conference aims at bringing together scholars who examine various domains of family life through the lens of class and inequalities in Central and Eastern Europe. We invite papers that present current empirical research both qualitative and quantitative findings as well as papers dedicated to theoretical and methodological issues related to the conference theme. We welcome papers based on both the cross-national analysis and single country studies.
The thematic scope of the conference includes, but is not limited to, the issues of:
family formation, dissolution and stratification
gender division of labor in the family
motherhood and fatherhood
family and work
family diversity
family policies and politics
family values
families and generations
The abstract submission deadline is June 20, 2021. We invite to submit abstracts (max 300 words) via the link on our conference website.
The prospective participants will be notified by the organizing committee's decision by July 30, 2021.
All conference related inquiries may be directed to familiesconference2021@vdu.lt
Organizing committee:
Prof. Milda Ališauskienė
Assoc. Prof. Jurga Bučaitė-Vilkė
PhD student Irma Dirsytė
PhD student Ieva Dryžaitė
Dr. Rasa Indriliūnaitė
Prof. Aušra Maslauskaitė
Prof. Artūras Tereškinas
WOMEN LEADERS IN MANAGEMENT AND RESEARCH AT VMU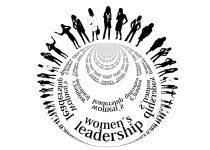 https://www.genderportal.eu/resources/women-leaders-management-and-research-vytautas-magnus-university-lithuania
Competition for the best Master's thesis that includes ESS data analysis
A group of researchers from Vytautas Magnus University that is responsible for the implementation of European Social Survey (ESS) in Lithuania is announcing a competition for the best Master's thesis that includes ESS data analysis.
Registration: https://forms.gle/F1rMPwNukmtQyKUa8
Christmas greeting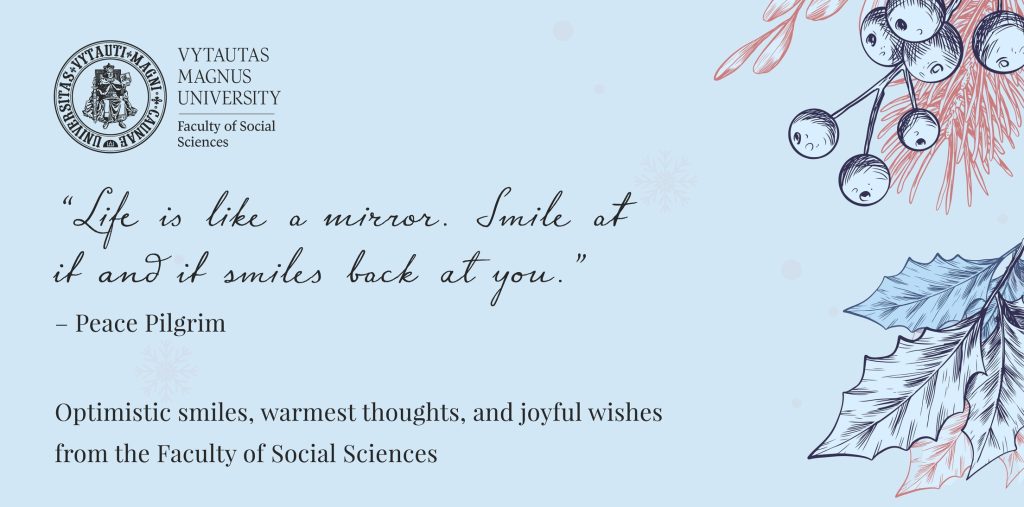 Women at the top: transformation of Lithuania's political culture or excuse to do nothing?
Women stand at the helm of all the three parties that are looking to form the government after Lithuania's recent parliamentary election. But women in top positions could also serve as an alibi to ignore overall gender inequalities, observers say.
The new parliament, Seimas, will have 103 male and 38 female members. Although an increase of 5 points, women will still make up only 27 percent of MPs.
"The election of parties with women leaders could mark a change in political culture", believes Natalija Mažeikienė, a professor at Vytautas Magnus University.
Read more: Lithuania's PM candidate: destroying 'world order' and why women-led parties won
Renewed 2020 Autumn Semester Timetable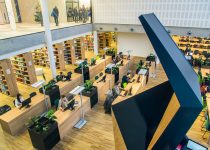 RENEWED 2020 AUTUMN SEMESTER TIMETABLE PROGRAMMES AND COURSES
IN ACCORDANE WITH https://www.vdu.lt/en/important-information-to-students-about-start-of-ay-2020-2021/
Regarding upcoming Academic Year 2020/2021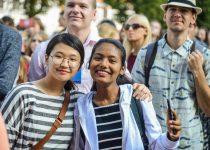 Dear International Students,
on behalf of Vytautas Magnus University (VMU), we would like to express our appreciation for your decision to join our university community. We would like to share our current plans for the upcoming autumn semester 2020.
The academic year at VMU will start as usual on 31 August. We prefer face-to-face activities to the online mode. If needed, some of the activities at the beginning might take place online. Still, we are ready and fully equipped to deal with all possible scenarios: resumed spread of the virus, national and international restrictions, and other circumstances that may force us to move online during the autumn semester.
We allow international students who experience difficulties entering Lithuania to attend studies using online tools and, if necessary, on an individual basis, until the end of October or until most of them have arrived in Lithuania.
Please note that Lithuania is among the safest countries in the World in terms of COVID-19. We advise you to continuously check information regarding visa issuance policy (information provided by the visa center and the Lithuanian Embassy at your country of residence). VMU is eagerly waiting for you to arrive and join our community in the autumn semester 2020.
In case of any matters that require immediate attention, you are welcome to contact the VMU International Study Unit (for degree students, studies@vdu.lt), the Erasmus Mobility Unit (for Erasmus+ exchange students, erasmus@vdu.lt) and the International Cooperation Department (for other inquiries, international@vdu.lt).
Algis Krupavičius the public continues to rally around the government. But for how long?

Public opinion is inertia based. This truth is known to every starting sociologist or political scientist. As such, in the current context, from the perspective of public opinion, there are at least two pieces of news for the government. The good – the popularity of ruling (the prime minister's) parties in most European countries, compared to pre-pandemic ratings, has grown. Not to the same extent everywhere, but in most countries. Even now, it continues to increase a little. But not by much. Overall, across 21 European countries, it has risen by 4%, when comparing surveys between February and May.
Daugiau skaitykite...
Easter greetings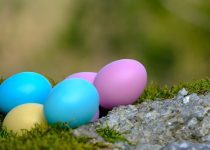 Let Easter Resurrection gives us hope and bright expectations!