Barakat Smoqi: My Exciting University Experience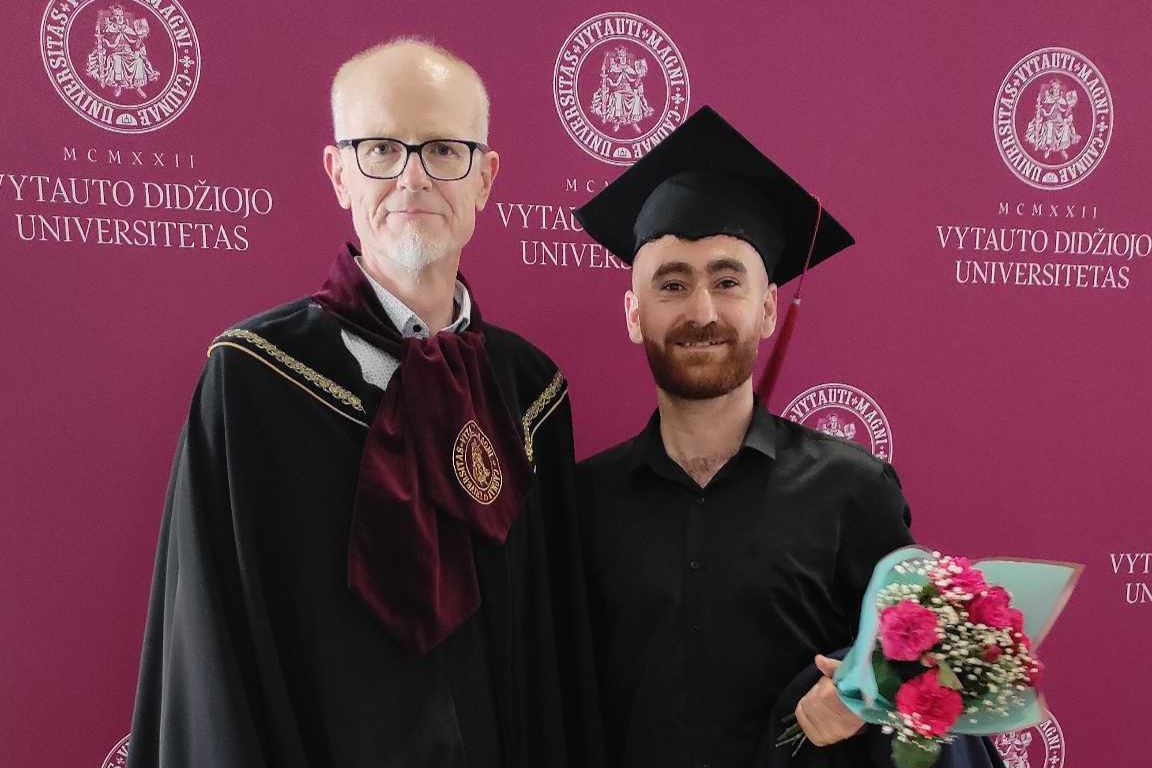 nuotraukoje greta Barakato – VDU Socialinio darbo katedros profesorius Jonas Ruškus
While in Iraq, I was always searching for an opportunity to pursue a master's degree in social work outside my country. I had a particular interest in Lithuanian universities due to their significant number of international students. One night in a displacement camp, as I was browsing Facebook, I came across a post announcing a vacant position to study a master's degree in Social Work at VDU University. Without hesitation, I immediately filled out the application form. VDU had been my dream destination, and I was ready to seize this valuable opportunity.
After about a month had passed, I received an email congratulating me on my acceptance to VDU University. It was an indescribable moment of joy. I felt overwhelming happiness as if I were about to fulfill my dream. However, the road to reaching the university was not easy. I traveled to Turkey for an interview to obtain a Lithuanian visa since there is no Lithuanian embassy in Iraq. Unfortunately, my initial application was rejected. I felt a great sense of disappointment as I had left two jobs behind in Iraq and depleted my savings for this aspiration. But thanks to the university's support and cooperation, they extended the attendance and document submission deadline, which helped me in attempting to reapply for the visa. After another 35 days, I finally obtained the visa.
Now, let me share a little about my experience at the university. Today, it has been almost fifteen days since I graduated from the university, obtaining a master's degree in social work. Despite the remarkable academic system and organization, what truly enriched my experience was the kind and immensely helpful university community.
While at the university, I felt as if I were living among my family members. They greatly assisted me in facing the challenges I encountered and played a significant role in my personal and professional development. In fact, I felt such strong support that I unintentionally referred to it as "my university" in my defense letter instead of its actual name. For this reason, I am indebted to this university and feel deep gratitude towards it.
Based on my personal experience, I highly recommend this esteemed university, especially the Department of Social Work, to anyone seeking an excellent educational system and a strong academic background. The university provides exceptional education that meets the needs of the modern job market, and personally, I have benefited greatly in developing my practical skills and critical thinking.
Aside from the high-quality education, the university's community is what really sets it apart. The social experience there was great, interacting with students of different nationalities and friendly and helpful faculty. They were always willing to help me in any way they could. It's a really friendly university.