Junbin Shao from China about MA studies in Social Work at VMU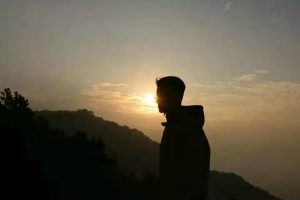 Junbin Shao from China is finishing his MA studies in Social Work at VMU. He kindly agreed to share some insights and tell about his experience at our university.
Junbin, you are about to graduate and receive the MA diploma in Social work. How did you decide to study social work? And why did you choose VMU?
I grow up in a brain-drain area with many social problems. I keep thinking about the causes and try to figure out the solutions. So I decided to study social work in my undergraduate study, and then it was not a surprise that I would continue the exploration. I noticed that the social work programme in VMU offers some interesting courses, and it is not too clinical-oriented. So I decided to study at VMU.
How would you generally describe your experience at VMU?
It is inspiring and fairly good. Although I had to conduct my first-year study remotely, my learning experience was still satisfactory. I seized the opportunities provided by VMU, took part in an academic conference, exchange study, summer school and gained valuable experience and progress.
What did you like the most during your studies at VMU?
I feel supported by teachers and other staff. They are willing to provide me supports based on needs and upon request, without which it will be hard for me to achieve what I want.
What are your career plans for the future?
I plan to take a job in the social service field first. There are too many factors that remain unknown, but I hope I can contribute to social justice in the ways I like.
Which useful competencies do you think you acquired during your studies at VMU?
I have certainly improved my skills in intercultural understanding and communication. Also, I advanced my critical thinking.
What would you like to wish for future students of social work?
When doing assignments or research, focus on what attracts you and be as creative as possible. In this way, you may be well driven, full of enthusiasm, and harvest something valuable. Otherwise, it may be painful…
Thank you for your answers and good luck with your future projects, Junbin!
Interview conducted by Laura Lapinskė, International relations coordinator of the Faculty of Social Sciences at VMU