A gift for university graduates – VMU Alumni ID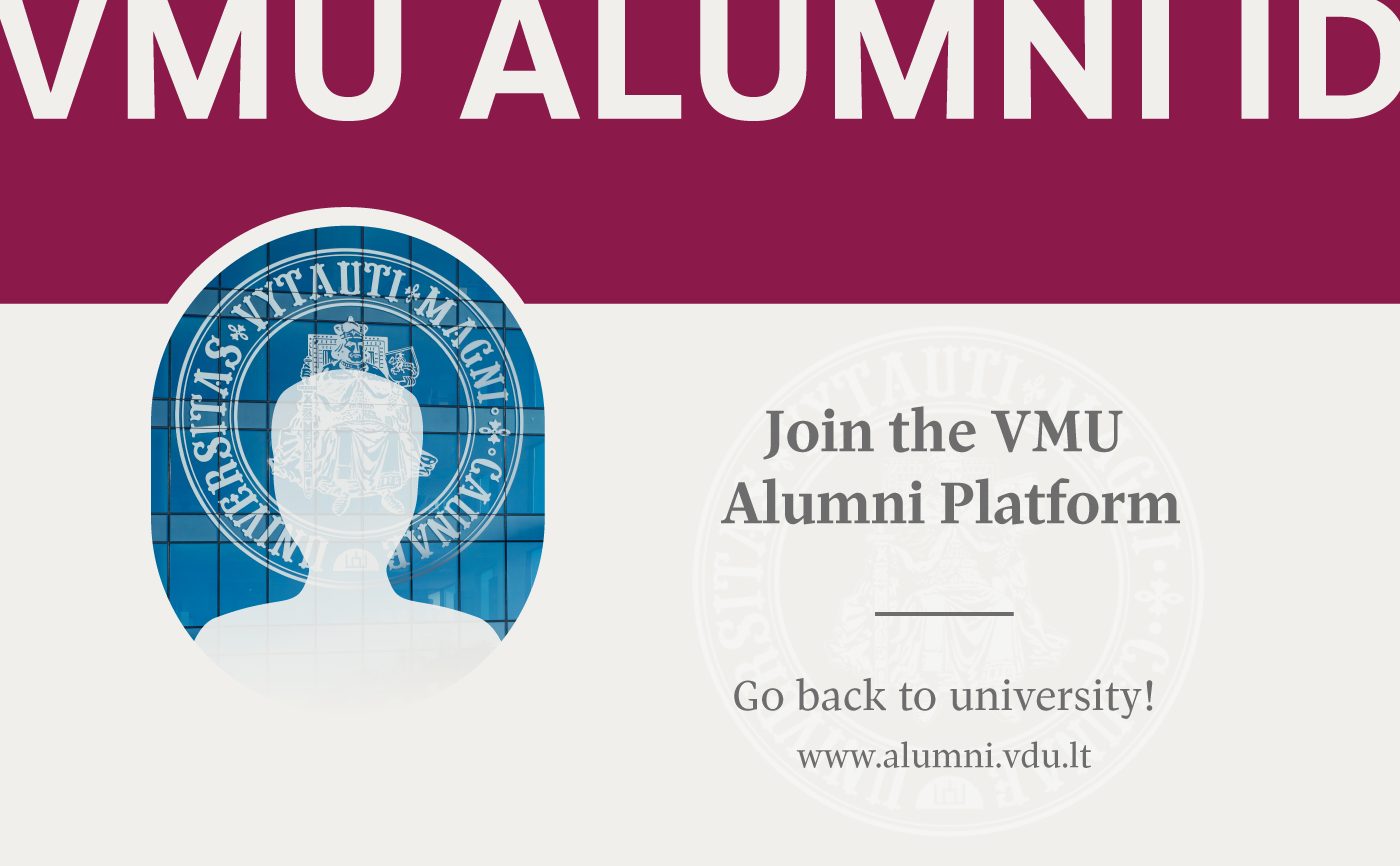 Vytautas Magnus University (VMU) in commemoration of the 34th anniversary of its restoration (founded in 1922, restored in 1989) presents a new interactive platform called "VMU alumni ID", which is integrated on https://alumni.vdu.lt/ website and invites graduates to "Join".
The purpose of this platform is to return to the university and establish and maintain a more flexible or strengthened mutual connection both between the university and the graduates, as well as among the alumni themselves, who are scattered all over the world.
The interactive space on the https://alumni.vdu.lt/ website allows graduates to add or update information about themselves held by the university and generate a virtual university alumni ID card based on this information. By signing into their alumni ID account, alumni will be able to access university services more easily and get exclusive benefits. Also, there is an awesome opportunity to remember your groupmates with whom you graduated from the university and start communicating with them, thus renewing old and establishing new professional and social connections.
"Our alumni community is the face of the university, which demonstrates the success and impact of the higher education institution on society. Therefore, we are very happy that on the occasion of VMU Restoration Day, as a gift to graduates, we can present this completely new, innovative tool "VMU alumni ID", which has no corresponding analogs in Lithuania, to the alumni of our university in Lithuanian and English languages. We believe that a large community of university graduates will join and use this platform, which will become a medium that will allow them to communicate and cooperate directly with each other, creating an even greater synergy between the activities of graduates and the university and the value being created in Lithuania and the world", said VMU Vice-Rector for communication Ph.D. Vilma Bijeikiene.
Those who register on the "VMU alumni ID" platform will not only generate a virtual graduate certificate but will also be able to use offers and additional benefits exclusively for them: receive discounts for studies and learning foreign languages, improve professional competencies, do sports at the Sports Centre, get career counseling at the Career Centre, and try more graduate-only or graduate-oriented university services.
Using the "VMU alumni ID" platform, alumni will be able to propose and develop their own initiatives for both other alumni and the entire university community. The interactive alumni space will constantly improve, new services and functions will appear that will facilitate the use of the platform, and alumni will be able to express their opinions and feedback.
Every year, more than 2,000 university graduates graduate from various levels of studies at the university.
We invite all VMU alumni to join the alumni community and thus create traditions and strengthen the connection with Alma Mater!